Penn State Commission for Women in Hershey's Climate Survey was launched April 3, 2017, and completed by 1,535 Penn State Health Milton S. Hershey Medical Center employees (76.9 percent of total respondents), College of Medicine employees (19 percent) and College of Medicine students (4.1 percent). The mean age of respondents was 43.3 years old, and the majority of respondents identified as female (79.8 percent).
Survey Findings
Survey Demographics
The survey was released April 3, 2017, to all Penn State Health Milton S. Hershey Medical Center employees, College of Medicine employees and College of Medicine students.
Total completed surveys: 1,521
Mean age of survey respondents: 43.2 years (range: 20 to 85)
Gender of respondents: Female (79.8 percent; n=1,214), Male (19.7 percent; n=299), Other (0.5 percent; n=8)
Employer of respondents: HMC (76.9 percent) (n=1,172), COM (19 percent; n=288), Student (4.1 percent; n=61)
Reported job title of respondents: Faculty (18.1 percent), Staff (76.6 percent), Student (5.3 percent)
Topics of Importance and Satisfaction with Campus Resources
Recognition, Leadership and Mentorship
Department Climate
Climate
Expand answer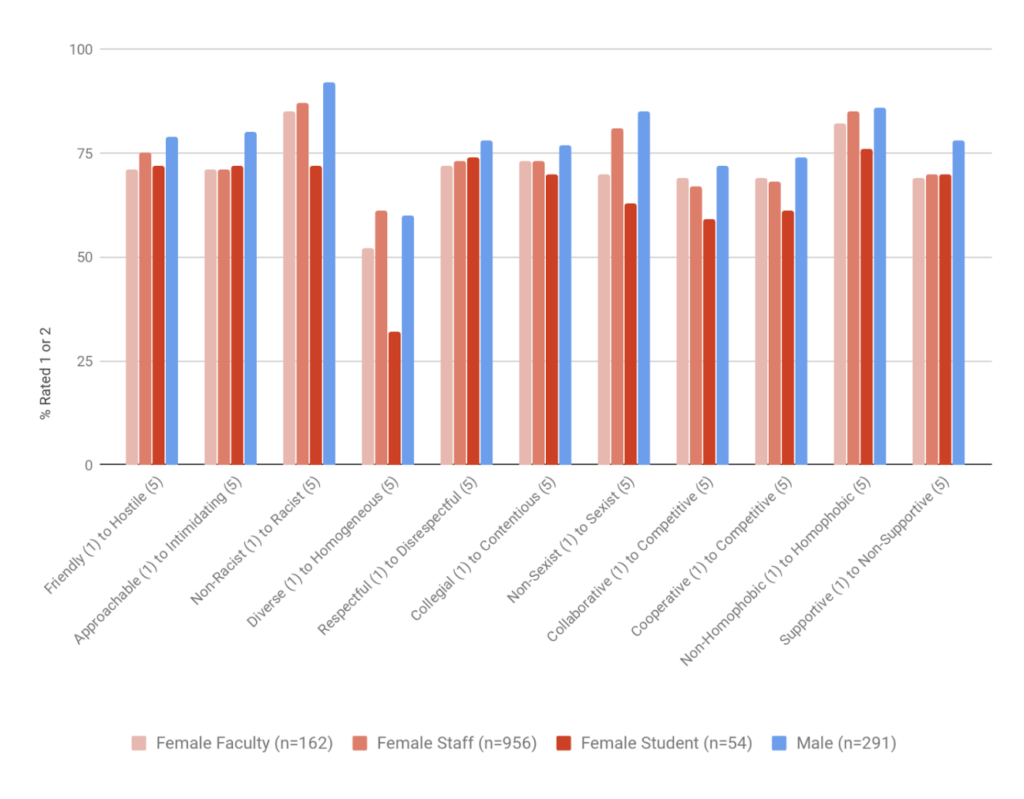 Conclusions
Expand answer
Generally, department climate was perceived positively among both females and males.
Diversity was the item rated most negatively, especially among female students.
Comparison to 2014 Pilot Survey completed by CFW Members
2014 Survey Main Findings
Expand answer
Survey was completed by 108 CFW members (23.2 percent faculty, 72.2 percent staff, 4.6 percent student).
The most important topics of interest for women were retirement (46 percent), working from home (49 percent) and salary equity (56 percent).

Retirement and salary equity remained important topics of interest.

41 percent of prior nursing mothers expressed inability to access lactation spaces and 22 percent expressed difficulties scheduling time to do so.

Access to lactation spaces remains the same.

27 percent of women were formally recognized for their work achievements.

Female faculty were the most likely to be recognized. Only approximately 15 percent of female staff and students were recognized.

54 percent of women reported they were willing to take on leadership positions; 50 percent report that they have no opportunities.

Less than half of female faculty and staff have reported an opportunity for leadership.